Rain, Rain...don't you dare go away.
I have over the years come to love the rainy season (before you ask, nope! i am not mammy water). I love the pattering sound of the rain as it hits the roof, its euphoric smell, how the bright green of nature turns vivid and not to mention that soothing coolness in ​​the air that accompanies it. Ibadan was washed anew by the downpours we were blessed with in the last few weeks; so even though the sun is downright turning us into kebab right now, we can smell the rainy season approaching.
Fashion speaking, even though the rain brings along with it opportunities for me to try out all those awesome seasonal gear i couldn't wear during the hot season, the downpours tend to be very unforgiving on my shoes plus these days, we cannot even go out nicely dressed and come back in peace.
However, I have learnt that this does not have to put a damper on your day-to-day fashion style. There are certain things to be adopted and avoided, to get through the rainy season looking as dapper, especially when you are a vehicle-less human being such as myself
This definitely has to be the first on the list. These days, almost everyone has some sort of mobile device, whether phones, tablets and the likes. One of the most essential applications to install this season is a good weather app. With this, you get the weather forecast daily (without watching the dreaded nine o'clock news) and then, know how to dress appropriately.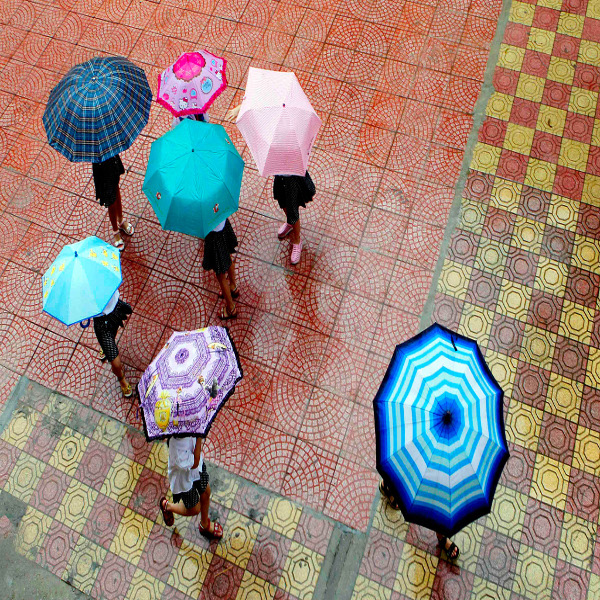 Everyone should have at least one umbrella in their possession. This would have been a difficult thing to achieve about a decade ago when what we saw everywhere were long ugly looking umbrellas. Now, they come in several colours and sizes and some are even collapsible.
Covering up is very important so as not to catch a cold, flu or get a fever. Investing in sweaters is both a good and fashionable way to achieve this. They come in several designs so you definitely can't go wrong.
Yes, leather jackets! A lot of people have at one point or another, wished to have a leather jacket. You either watched a lot of Michael Jackson videos. Now is the time to invest in one, or more! Leather jackets do not absorb water, instead the water falls right off it, keeping whatever is beneath dry. Another great addition to your wardrobe if you don't already own one.
Wearing lighter clothes helps when it's time to get dry. Lighter clothes get dry faster than thicker clothes so they tend to be more convenient and comfortable. Avoid wearing silk though, as rain water spoils the material.
Boots undoubtedly make huge fashion statements. They can be worn all year round and there are so many different types and styles. In Nigeria, boots are not deeply ingrained in the society of cloth-wearers. If you can get your hands on them, I would advise you to do so. They add a certain flare to your wardrobe and can be styled in several ways.
P.S: Suede and leather boots are a no-no. Go for rubber, pleather(plastic-leather), protectant-treated leather boots.
For those who don't have vehicles, slippers and sandals come in handy during this season. These can be worn out in the rain and later exchanged for appropriate shoes when your destination is reached. Slip-ons with cutwork, sneakers and thick-soled shoes are advised to be worn. Again, except you want it ruined, don't wear suede.Also, socks should be avoided as they make the feet moist and irritated.
Leather bags and water resistant bags are the best for the rainy season. They adequately preserve the state of dryness of its contents. For ladies, you can't go wrong with tote bags.
Bright, Bold and Dark Colours
It is advised to stay away from white or yellow clothes because of the eventuality of it being stained by mud when it rains.
Wear darker colours, especially from the waist down.
I remember as a child, I used to hate rainy days because it made everywhere really gloomy. It reminded me of a classic Hollywood burial scene- everyone wearing black, carrying umbrellas, and the rain pouring down on them. Get rid of that gloom, wear bold, bright colours - a bit of neon here and there.
It is obvious that staying in style during this open heavens season involves some planning ahead and patience. So take time out and don't use the rain as an excuse to not look good. Remember to air out your wet clothes and shoes and leave them to dry properly before putting them on again.
Enjoy the downpours!
Joyce Odems.