Proudly lining the Ibadan sky at a modest 105m and overlooking Dugbe, the Wall Street of Ibadan, you get the feeling that Cocoa House has scores of stories to tell (no pun intended). The iconic building is the first known skyscraper in pan tropical Africa as at completion and continues to stand as a beacon for the city's fast developing commercial sector.
The 25-storey structure makes a little more sense to build now than it did when Chief Obafemi Awolowo proposed one more than 50 years ago. The idea for a high rise began with the late elder statesman, who had hopes of establishing Ibadan as the nerve center of the West. It didn't take long for this idea to take form and with help from the old administration plus additional funds from the Agro association, the newly built Cocoa House was commissioned on July 30th, 1965 by the old Premier of the Western Region and the Aare Oona Kakanfo of Yorubaland, the Late Chief Ladoke Akintola. Construction work for the building was handled by the oldest construction firm in Nigeria, Cappa and D'Alberto. Unknown to many, the landmark was of borne off the profits garnered from the now defunct Western Region of Nigeria Cocoa sales hence the name (it used to be called Ile won age which roughly translates into the House of Farmers).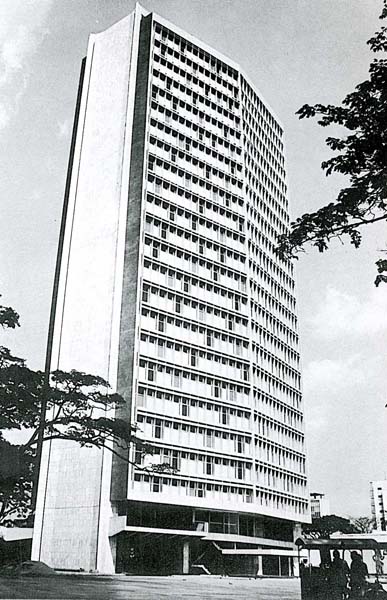 It hasn't all been roses and fireworks for the historic building. Disaster struck on January 9th, 1985 when the building burnt down to the ground and it was not until 1988 before rehabilitation plans were drawn and restoration works commenced. On August, 2 1992, the Cocoa House was reborn and reopened to the general public to much fanfare.  
From its 1.7 hectares vantage point on Major J. Allen Avenue at Dugbe, the Cocoa House serves as the nucleus to a lot of the commercial hustles of the Ibadan people. It is home to the first malls that took roots in the city and stands as a heritage of years past attracting tourists from far and wide. The House has an annex called Kokodome a night club that for years served as the meeting point for night crawlers. It remains till date a choice destination for a number of people thanks to its well ran restaurant and nightclub. The Cocoa House's highbrow location is also known as Bank Road (understandably so given that many banks chose the area to site their main branch here including the Central Bank).