Are you in Ibadan for the month of April? Here is a list of events for the month as compiled by Malik:
Shop Ibadan Live (April Edition)
Date: 1st & 2nd April, 2016
Venue: National Museum, Alesinloye, Ibadan
Entry: Free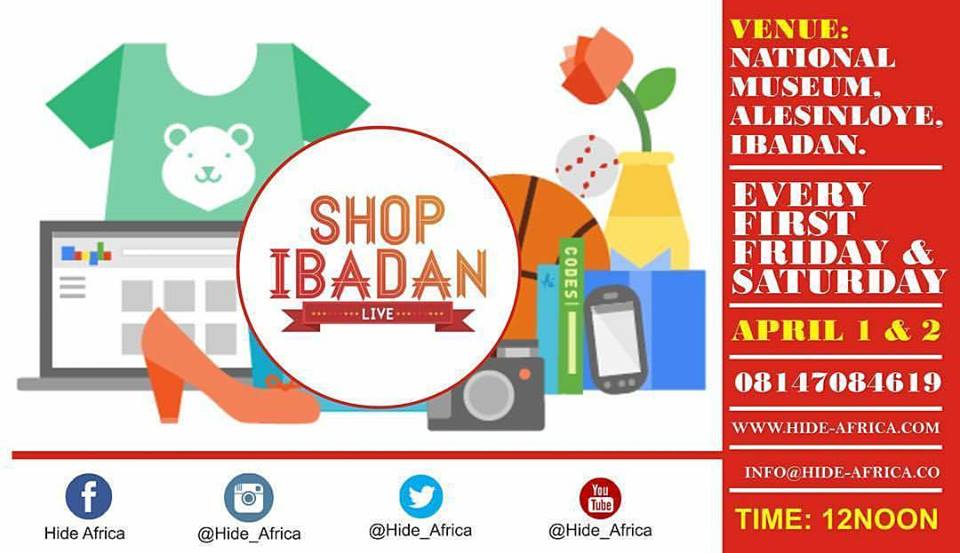 Hide Africa brings to the city of Ibadan, "Shop Ibadan Live" which gives Ibadan people the opportunity to experience quality shopping experience at cheaper prices. It is also an avenue to play, eat, network and more. Shop Ibadan Live holds every first Friday and Saturday of every month so better mark it on your calendar so as not to miss next month's edition.
Date: 2nd April, 2016
Venue: Mauve 21 Events Centre, Ring Road, Ibadan
Entry: ₦5,000 (Ticket Admits A Couple)
Ibadan Family Impact brings the Couple's Cocktail 2016 which is themed "Together Forever". It will be a fun filled time as there will be comedy, raffle draw, dancing competition, talk show, question & answer and there will also be lots to eat and drink. It's surely an event for all married couples to attend.
Space FM 90.1 Merit Artist Award
Date: 3rd April, 2016
Venue: Bashmol Events Centre, Old Ife Road, Ibadan
Entry: ₦500

Space FM 90.1 brings to you its maiden edition of the Artiste Merit Award and it holds at Bashmol Events Centre, Old Ife Road, Ibadan. If you want to know the artists running the game, this is the be place to be
Straight Outta Ibadan Show
Date: 9th April, 2016
Venue: Ayefele Music House
Entry: Free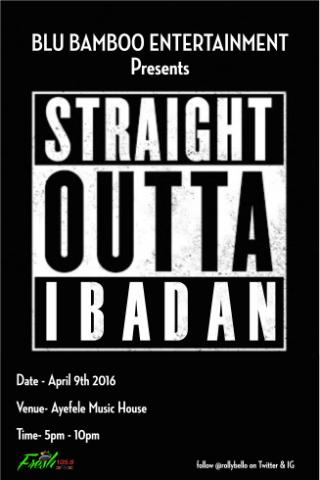 Come the 9th of April, Blu Bamboo Entertainment will be honouring some influencers in the ancient city of Ibadan and will continue this tradition following months also.
Date: 16th April, 2016
Venue: Lead City High School Turf, Jericho
Entry: Free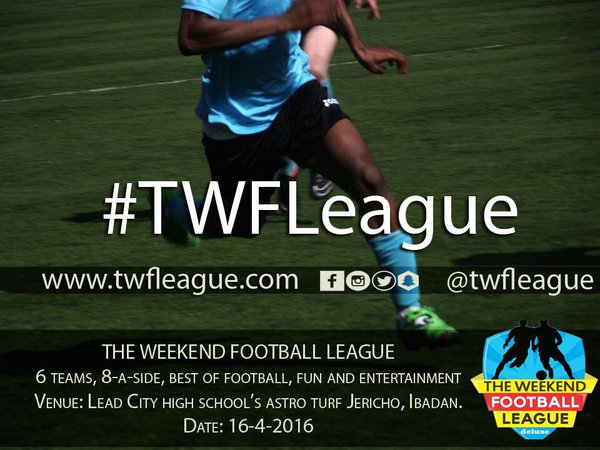 TWF League is a gathering of fun lovers of all ages in the great city of Ibadan. It's a wonderful chance to ease off stress from work, school activities and also a great opportunity to make new friends. It is a one day gathering of fun lovers while enjoying the game of football with other side attractions such as FIFA console tournaments, music, food and drinks etc.
Miss Western Nigeria Audition
Date: 16th April, 2016
Venue: Kakanfo Inn
Entry: Free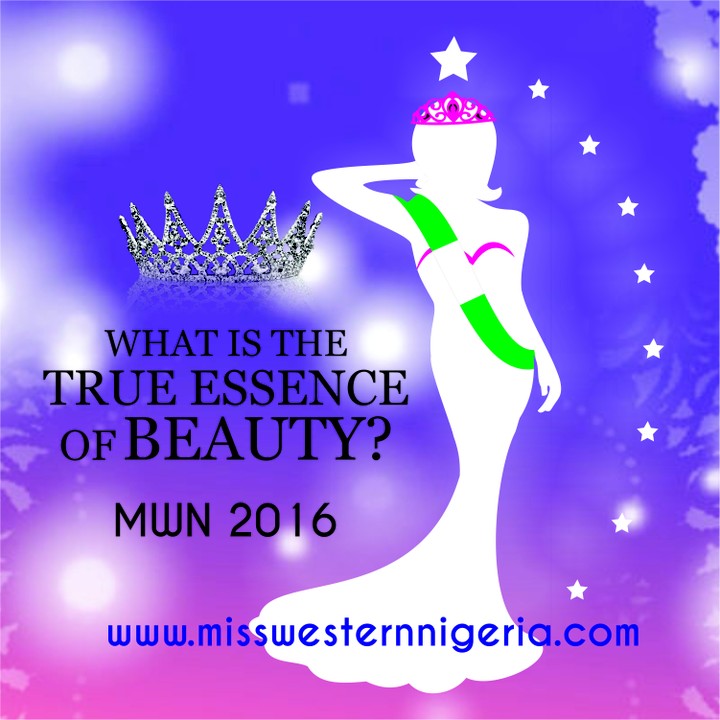 Miss Western Nigeria is a beauty pageant aimed at accelerating the socio-economic development of Yoruba nation. Open to all Yoruba speaking people of Western Nigeria which includes Lagos, Ogun, Oyo, Osun, Ondo, Ekiti, Kogi, Edo and Kwara States. The audition holds in Ibadan and if you think you have what it takes to be the next queen, you can register at www.misswesternnigeria.com/registrationaudition-form.
Date: 27th – 29th April, 2016
Venue: SU Events Centre & Tranchard Hall, University of Ibadan
Entry: Free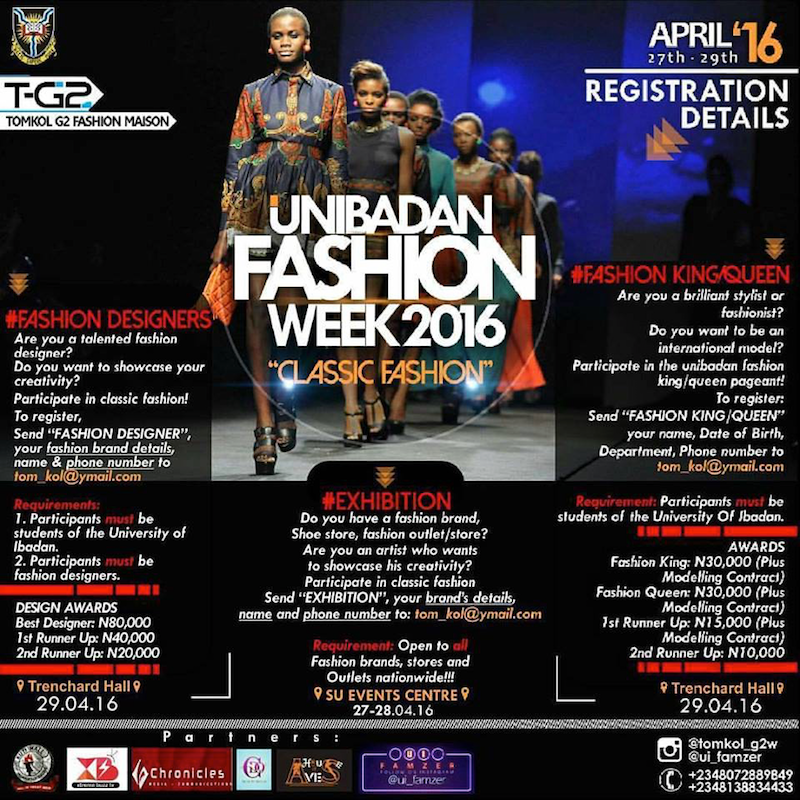 Unibadan Fashion Week is a show organized by the University of Ibadan Students Union and features a fashion exhibition and fashion show. It holds from the 27th of April to the 29th of April. April 27 & 28 which is the exhibition showcases artists and holds at the SU events centre while April 29 showcases fashion designers and the fashion king and queen and will hold at Trenchard Hall, Ibadan.