February Fourteenth. The time has again arrived for you to reveal the romantic in you, even if only on this one day of the year.
Like in pretty much every other city in the world, Valentine's Day in Ibadan is celebrated with great passion and verve. It is not unusual to start seeing signs of the impending celebrations as early as the first week in February. Shops and malls are transformed with beautifully adorned fragrant flowers, balloons and love symbols, all of which are decorated in the tradition colours of the season. So great is the enthusiasm around here, one can practically smell love in the dust infused harmmattan air.
This year, Valentine's Day falls on a Tuesday (not your typical time of the week for inspiring romantic thoughts) but that won't in anyway deter star crossed lovers all around the world from going out on romantic dates and of course, exchanging gifts. Forget cinema, malls and dinners at restaurants. In the spirit of the season, we have compiled a list of ideas on how you can treat your significant other to something different this Valentine's Day.
Hire a Private Chef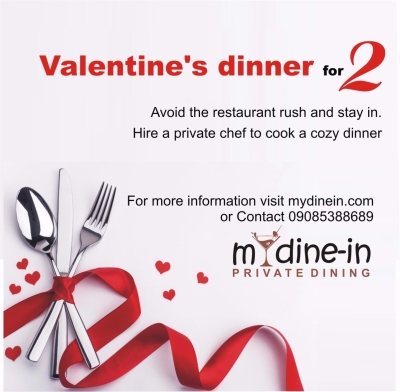 Going out to eat on Valentine's Day can be a bummer at times so instead of going the obvious route by inviting him/her to dinner, why not stay at home instead and hire a private chef to cook you both a delicious Valentine's meal? You can set the table and light some candles and after you guys can "Netflix and chill" for dessert. It's romantic, original, and most importantly, easier to execute than you think.
How? you ask…MyDine-In is a chef for hire service that brings restaurant quality dining experience right to your doorstep. You can look them up here
Book a date at the Spa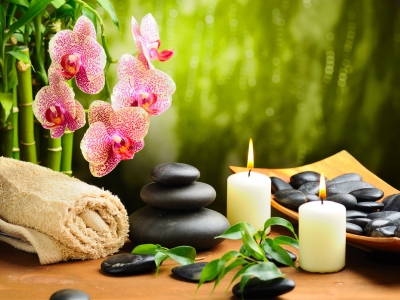 The gift of relaxation can never be overrated. A couple's massage is the ultimate way to unwind while still spending time together. You can enjoy full use of their spa facilities, robe and slippers, rejuvenating facial, express manicure and so much for a thrifty fee. As a couple you can both enjoy the same type of massage, or she can opt for a hot stone massage while he has someone work on relieving his sore muscles. Either way, it's a great gift to give because not only will your partner love it, it's also a present for you.
Quiet Getaway to the country side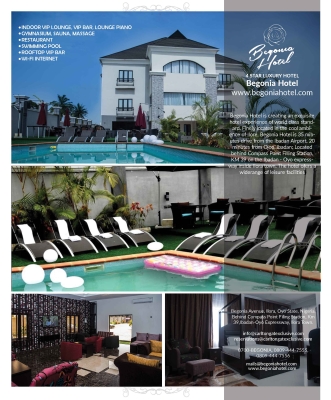 You don't have to go far for some fun quality time with your significant other. If it has been awhile since you and your spouse went away, you can surprise him or her with a special getaway and that is without leaving the state.
Thirty minutes from the center of the city and Nestled between the Ibadan – Oyo town freeway is the serene and non-descript Begonia Hotel, a quiet getaway from all the hustling and bustling of the city. Here, you and your sweetheart can both relax and unwind while sipping cocktail and wading about in their pool. The hotel rooms are tastefully furnished with a feel of luxury and attractive accommodation. It is a great destination to cuddle, play games and even get engaged.
It gets even better. Thanks to IBCITY INFO, you can now enjoy a whooping 30% discount when you book through us.
Movie at the park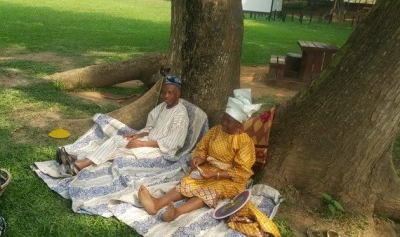 There's nothing more romantic than a picnic & movie in the park so its time to find a nice springy spot, lay out your blankets and cuddle up as you enjoy the ultimate Valentine's Day experience at the Agodi Gardens. The outdoor cinema experience is the first of its kind outdoor cinema experience for Valentine's Day in the city and is organized by Breeze Nigeria. For N1000 you get to watch up to four movies. There will also be music, comedy, karaoke, games, drinks, grills, BBQ and lots more.
Couple Photoshoot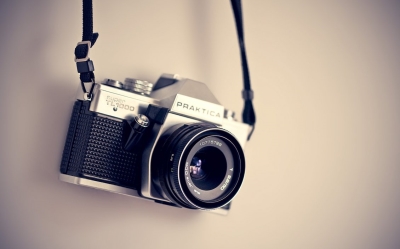 Many photographers in Ibadan do couple photographs, and this could be good fun and a generally inexpensive and memorable thing to do on Valentine's Day. Because beauty is in the eye of the beholder, search for a photographer in your area and pick the one whose portfolio you like most or you could just call us and trust us to make the most excellent recommendations for you.